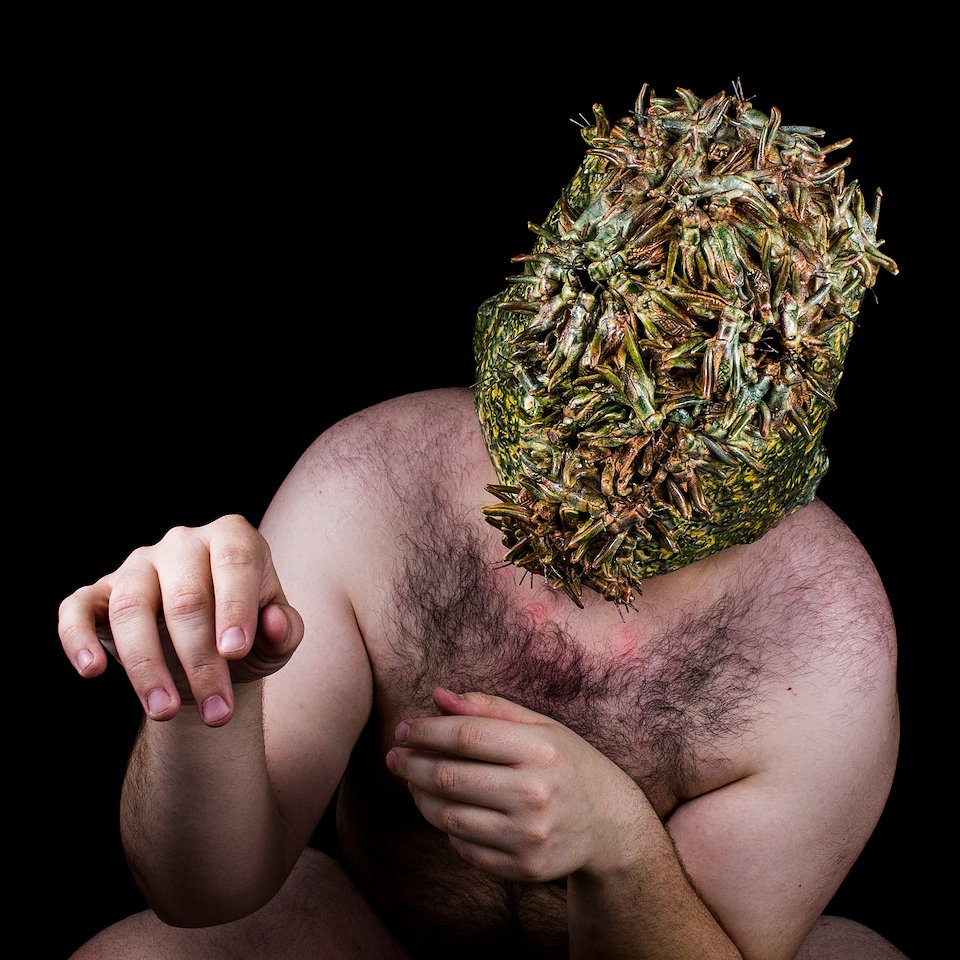 In Consequence of Our Sins
Silver halide print
Mask: majolica, overglazes, nichrome wire
20 x 20 inches
2017
Artpace San Antonio: January 18 – March 4, 2018
Inspiration:
                 Translation of proceedings relative to the petition from residents of San Fernando to Orobio y Bazterra for aid in 1738: "[…] because of the uncommon plague of locusts with which we are beset at present in consequence of our sins and, which are continuously ruining the crops that have been planted, we have come to the conclusion that unless God in His divine mercy takes pity on us, we shall be in danger of starving, since we do not have any more seed to plant during the cold season when the locusts die."

About the Common Currents series, from https://www.commoncurrents.org/ :
"In celebration of San Antonio's Tricentennial year, six downtown artist-centric organizations: Artpace San Antonio, Blue Star Contemporary, Carver Community Cultural Center, the Guadalupe Cultural Arts Center, the Mexican Cultural Institute, and the Southwest School of Art, will partner to present an exhibition that will illuminate the 300 years of their hometown's history. Common Currents is a diverse, encyclopedic showcase of San Antonio's history as told and rewritten by more than 300 visual and performing artists, invited to participate by their peers, and presented over 6 venues.
"Drawing on the connections or currents that run through San Antonio's vibrant creative community, each of the organizing partners began by inviting two artists. These initial 12 artists were then asked to invite two peer artists, until more than 300 were amassed. All of the participating artists were assigned one year of San Antonio's history on which to reflect in the development of their work for Common Currents . This exhibition is presented chronologically through a variety of contemporary media across the six venues.
"Common Currents draws a portrait of San Antonio, by San Antonians. With the "chain letter-inspired" framework for the exhibition, each organization takes a backseat, letting the participating artists make decisions that may traditionally be the role of the organization or curator. This provides for an exciting presentation of artistic connections spanning our center city's art venues."